Wedding Flowers - Wedding Florist Ottawa
our
Floral Philosophy
We believe in you.
Your wedding is a once-in-a-lifetime experience. It deserves special attention. It deserves to respresent and reflect YOU.
Let's create a floral story about YOU (and not only a pinterest board)
Our Approach
Flowers are not just a décor or embellishment.
We create flowers that represent you. We create flower designs that reflect your couple.
We believe in meaningful flowers.
Less is More
Let's create Wow Factors. There are no rules to follow and you do not have to do anything unless you want it. Wedding is a celebration of you TWO.
Meanings
We ask questions about you. About your interests. About your couple. Music, cannabis, sports, hunting, lego, crystals - we love reflecting you with flowers!
Inclusiveness
We often use the term Spouse to Be. We believe that everyone is entitled to a flower crown or a wedding bouquet(s) regardless of their gender.
Easy Process
Quick communication, fast quotes, and seamless process. Get to know more about our enquiry process below and talk to us!
The Wedding Flower Planning Process
Planning a wedding can be overwhelming and stressful. We're on a mission to keep the floral design part simple & fun. Our goal is create florals that will reflect you, represent your vision, and align within your budget.
STEP 1
ENQUIRY FORM & DESIGN Q&A
Let's get in touch, capture some floral information, and confirm our availability to design on your special day. We will proceed with the detailed Design Q&A session to ask you about your priorities and vision.
STEP 2
QUICK QUOTE & BUDGET RECOMMENDATION
Receive a personalized quick quote and budget recommendations based on your case. Let's make the most of your budget, stick to that budget and create a real 'wow factor' for the day.
STEP 3
FORMAL QUOTE, MOODBOARD, CONSULTATION & SAMPLES
Ready to proceed? We will prep a formal quote, contract, your moodboard, and schedule an in-person or online consultation to go over all the details.
STEP 4
THE BIG DAY
We will create and design the most stunning florals tailored to you. Relax and enjoy the celebration! We are here to reflect YOU and make the most out of your special day.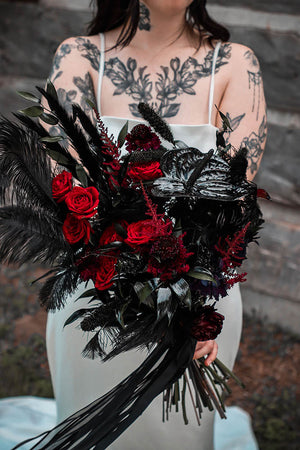 Budgets and Sizes
Learn more about budgets, sizes and play with our online Wedding Flowers Calculator tool
coming soon